From brakes, to steering and suspension, PRO-SERIES auto parts are engineered and tested to meet rigorous industry standards.
PRO-SERIES Has You Covered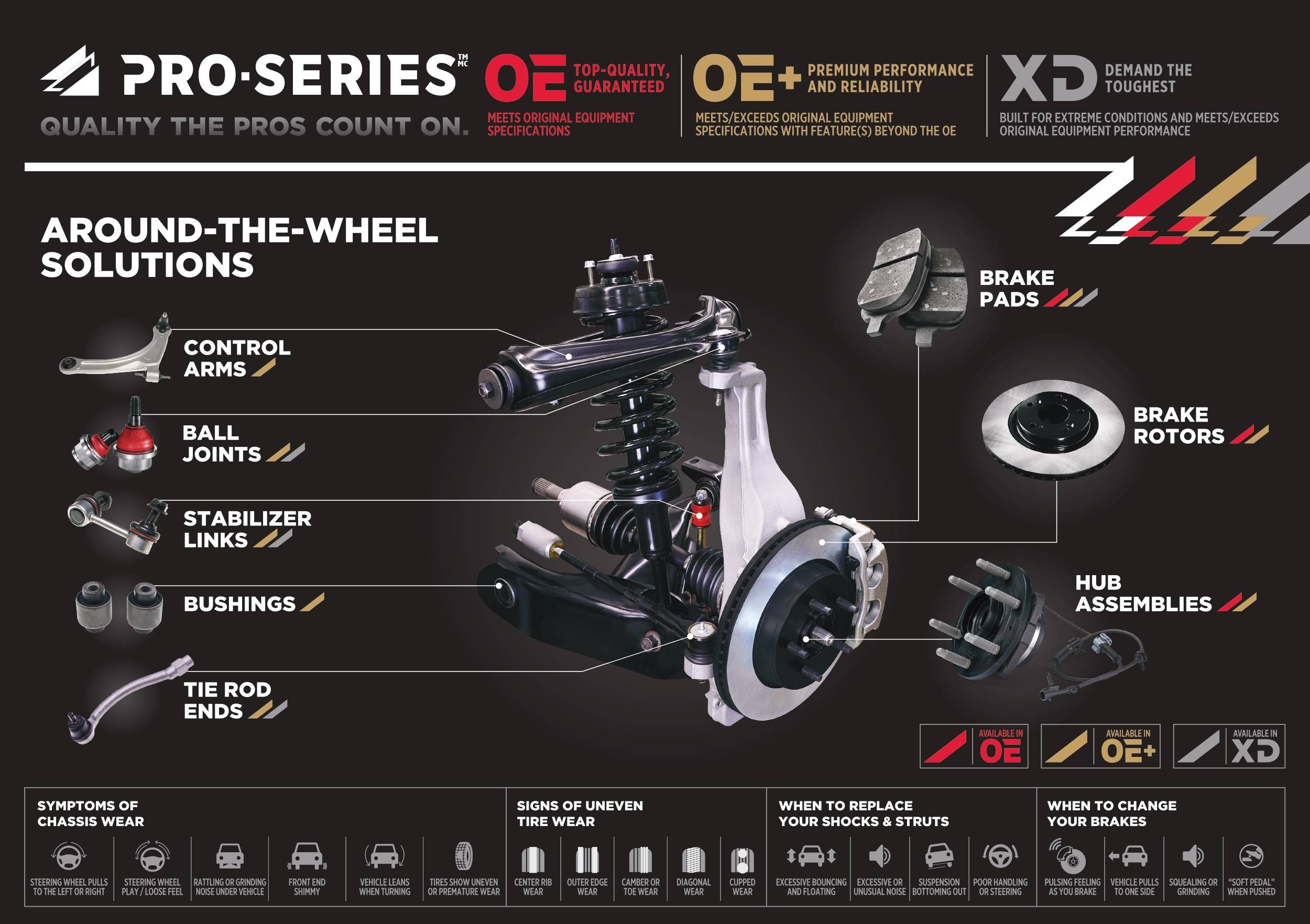 PRO-SERIES Brake Pads & Rotors
From Standard OE replacements, premium SMARTFIT friction formulations, to serve duty stopping power, we have the range of solution to fit your needs.
All weather protective coating, PRO-SERIES OE+ brake rotors are engineered to meet or exceed OE specifications
PRO-SERIES
batteries comes with ultimate power & performance that strengthen your vehicle frame and gives you long term reliability
Built-in protection against temperature extremes
High power for today's many electronics
Premium starting power and durability.
Meets or exceeds most vehicle requirements
PRO-SERIES OE+ Premium Chassis Components
Our wide assortment of Chassis components cater to all driver's whether you have a high-mileage daily commuter or a performance oriented vehicle. These components are designed for direct fit, long service life & built to meet or exceed OE specifications. Improve the ride, comfort and stability of your vehicle for many years to come!
PRO-SERIES OE Engine Air Filters
PRO-SERIES engine air filter designed to the right features of your vehicle that improves airflow and engine performance.
PRO-SERIES Air Filter contains scientifically-engineered filter media for a higher level of engine protection
A new air filter can help increase airflow, horsepower, and improve overall engine performance
Recommended that your air filter is replaced every 20,000 km to help eliminate the amount of dirt entering into the engine
Designed to match OE fitment and performance
PRO-SERIES OE Cabin Air Filter
PRO-SERIES cabin air filter helps remove harmful pollutants, including pollen and dust, from the air you breathe within the car
Pro Series Cabin Air Filter filters up to 98% of dust, pollen and other contaminants
Freshens air entering your vehicles ventilation system
Replace every 12 months or 20,000km
Designed to match OE fitment and performance
PRO-SERIES Synthetic Engine Oil
PRO-SERIES Synthetic Engine Oil provides lubrication to vital engine parts faster to help reduce engine wear due to friction during cold weather engine start-ups
Designed to resist vaporization and thermal breakdown at extreme high temperatures to provide excellent lubrication to your engine under adverse driving conditions
Exceeds API Baseline performance testing standards on wear protection, engine sludge protection, piston cleanliness, low temperature performance, and oil loss prevention in gasoline engines
Exceeds the requirements of the following industry specifications: API SP and all previous categories, ILSAC GF-6A and all previous ILSAC standards
GM dexos Gen 2 Licensed (D135AEAD014)
PRO-SERIES OE+ Oil Filter
PRO-SERIES OE+ oil filter Extended Life filtration media delivers up to 10,000 miles of superior engine protection
99% multi-pass efficiency: Removes particles as small as 25 microns
High capacity for trapping and holding containments
0.5mm thick steel cans withstand high pressure operating conditions
Rough surface for enhance grip provided by durable, powder-coated paint
Need quality parts that perform? Trust the brand the pros use. Trust PRO-SERIES, available at PartSource