Pennzoil pushes the limits of technology. Breaking barriers, pioneering firsts, and defying convention is what we do best. Pennzoil offers a range of innovative products to protect and optimize passenger vehicles and high-performance racing engines.


Pennzoil Ultra PlatinumTM Full Synthetic motor oil with PurePlusTM Technology is race trusted for extreme engine performance. Pennzoil Ultra PlatinumTM is made from natural gas, not crude. Its base oil is 99.5% free from engine clogging impurities.
• Unbeatable Engine Protection
• Outstanding Performance In Extreme Temperatures
• Better Fuel Economy
• Nothing Keeps Your Engine Closer To Factory Clean
• Most Advanced Formulation For High Performance Engines

Pennzoil Platinum® Full Synthetic Motor Oil helps extend engine life and protects for up to 15 years or 800,000 kilometers, whichever comes first. Guaranteed.4 Pennzoil Platinum® is made from natural gas, not crude. Its base oil is 99.5% free from engine clogging impurities and is designed for complete protection for top engine performance.
• Unsurpassed Wear Protection
• Excellent Performance In Extreme Heat And Cold
• Better Fuel Economy
• Keeps Pistons Up To 45% Cleaner Than Required By The Toughest Industry Standard
• Designed For High Performance Engines

Pennzoil® motor oil is formulated with Active Cleansing Technology. At Pennzoil we're committed to engineering motor oils that are proven to protect your engine. That's why we fortified Pennzoil® motor oil to help prevent dirt and contaminants from turning into performance-robbing deposits, helping to keep engines clean and responsive.
• Provides Proven Wear Protection
• Keeps Engine Clean and Responsive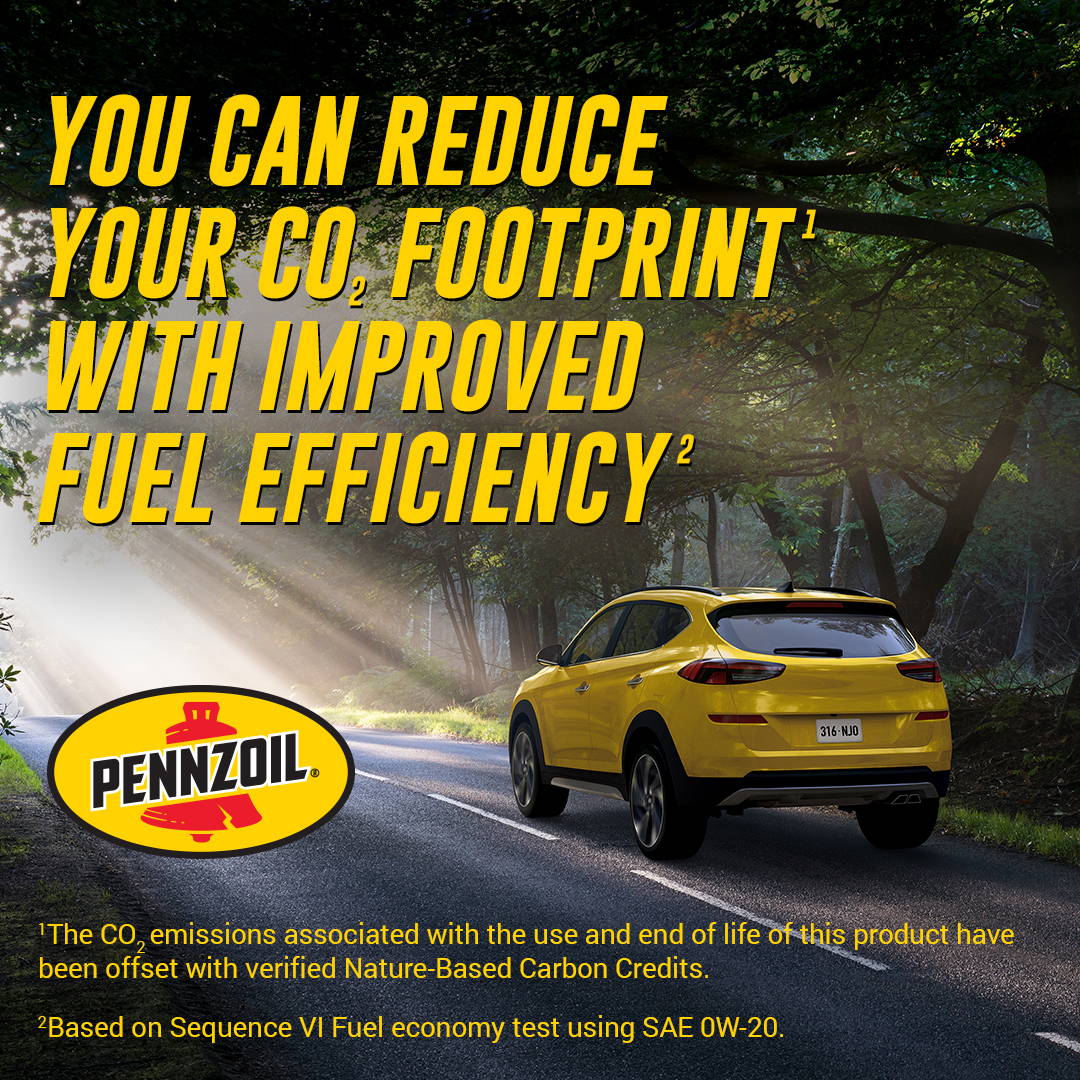 Protection And Lower Emissions* Driving Side By Side
At Pennzoil, we want to help drive the future by reducing our carbon footprint. Together we can make a difference.
Now offering Carbon Neutral products.
When you choose Pennzoil's Carbon Neutral** motor oils, you're joining us in protecting and restoring natural ecosystems around the world and in the US5. Emissions are offset by Shell's globally diverse, externally-verified and high quality, nature-based carbon credits.
* Based on Sequence VI fuel economy test using SAE 0W-20.
** "Carbon neutral" indicates that Shell has engaged in a transaction where an amount of CO2equivalent to the CO2e amount associated with the raw material extraction, transport, production, distribution and usage [end-of-life, if Lubricants orother non-energy product] of the [product] has been avoided as emissions through the protection of natural ecosystems or removed from the atmosphere through a nature-based process.